Request Access to the Southbrook Resources Portal
If you want to start working on your business, the Southbrook Resources Portal offers business owners a great way to get started. In our resources database, you will find a range of useful tools to help manage your team, define your processes, and scale your business, which we will use with our own clients.
These resources are designed to help solve a range of common business challenges, including issues with finances and bookkeeping, recruitment and people management, and overall business strategy. Here are some examples of tools that you'll have access to:
Successful Recruiting Process Guide
Interview Matrix
Conflict Resolution Guide
Tips for Improving Cash Flow
S.M.A.R.T. Action Plan
One-Page Strategic Plan
And much more
Access Over 25+ High-Value Tools to Grow Your Business
Get Exclusive Access to Our Resources Portal
Only registered Southbrook members can view these documents — so request your access today to get started.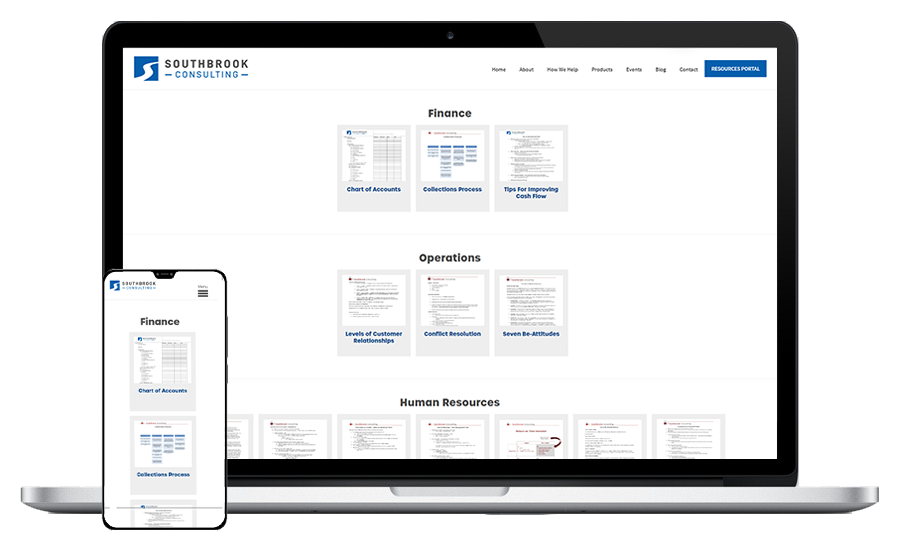 25+ Business Tools
Access our database of high-value tools and find new ways to improve your business.
White-Labeling Functionality
Make our resources your own with customizable business names, logos, and more.
Proven Solutions
Implement solutions that are tried-and-tested in the field and based on years of experience.
Bonus: Access to Our Associates
When you register to access the Southbrook Resources Portal, as a value-add, you will also gain access to our network of associates. These associates are trusted partners who can assist with a variety of day-to-day tasks for your business, including bookkeeping, on-call HR services, and more.
Bookkeeping Associates
Ron Bremer
Tammy Mary
Admin Assistant
Donna Schenkel
HR Associates
Kristin Overholt
Social Media Associate
Emma Blankestijn
Testimonials From Our Clients
After struggling for many years in my business, I had nothing to lose by asking for help so I yelled it loud and clear and that's when Nathan suggested a meeting to review my personal ambitions, business plan, finances, staffing, long term plans, etc. Nathan has been (and continues to be) a fantastic mentor. A mentor that continues to ask the really hard questions and guide me through all facets of the business. In my first year working with Nathan, my profits went from -2% to +13%. Understanding one's business is crucial to the bottom line. I couldn't have done it if I hadn't asked Nathan for help.

Yorkshire Garden Services

Southbrook helped us plan strategically and come up with action items to move the business forward. Nathan challenged what I thought was important, and focused our efforts on what was needed given the size of our firm and where we wanted to get too. Nathan's strength lies in showing owners how to increase productivity and the overall fiscal health of the business. Thank you Nathan for your commitment and aid in helping our firm improve the type of company we are and strive to be.

Golden Mean Landscapes

Nathan Helder from Southbrook Consulting is a dedicated professional. As a client, I can always expect attention to detail and the right questions to build up my knowledge of my own business and numbers. The accountability of a consultant like Nathan is such a valuable asset to my growing business, and he takes this role very seriously. The investment level of his services is always fair and worth every penny. I have grown to be more comfortable assessing my business and strategic goals with Nathan's leadership and guidance. I would recommend Southbrook Consulting to any business owner, specifically those in the landscape industry.

Mapleridge Landscapes Ltd
Get in touch to learn more about strategic planning for your business.