WORK IN PROGRESS (WIP)
WHY is it Important?
WHAT IS A WORK IN PROGRESS (WIP) SCHEDULE?
At a basic level, WIP reports show the status of a construction project and contract: whether it is on budget, over-billed, or under-billed, as compared to the project timeline. But this simple statement refers to a wildly complex cash flow, plotted against the progress of the project and more importantly, who's paying for it, and when.
WHY IS THE WIP IMPORTANT?
If a project is under-billed, cash is flowing in after the work has been done and the resources have been used up — meaning the contractor (you) are essentially financing the project. There can also be inflated reported revenue on financial statements, which leads to higher taxes and a false sense of security.
If a project is over-billed, the work lags behind the pace of the billing, meaning that your customer is financing job costs. This might not sound like a problem for you; but early billing means front-loading the cash without accounting for cost overruns or punch-list items — and that translates to profit fade and cash-flow problems at the end of the project.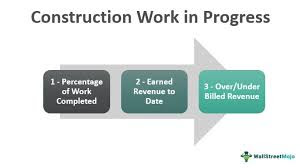 HOW WIP IS DETERMINED
Accounting for material used

Accounting for labour costs/time expended

Analyzing WIP

Revenue recognition – % of how much is completed

Sorting through the details
WHAT IS IN A WIP REPORT?
Total amount as stated in the contract

Estimated costs

Remaining profit

Costs incurred so far

Percent completion of the project

Billed revenue

Paid revenue

Over/under billings

Project backlog
A SIMPLE WAY OF CALCULATING WIP
Here is an example of how WIP is calculated:
One of the line items on a contract is worth $10,000.
The budget for the labor portion of that line item is $5,000.
The contractor has not billed for the line item yet, but has already spent $2,000 in labour costs on the item, and is on schedule (about 40% complete).
The contractor thus has $4,000 in Work in Progress.
They have legally earned $4,000, given that they have completed 40% of the work; they just have not invoiced it yet.
So, when they run their profitability reports, they should see $4,000 in earned (unbilled) revenue for that line item.
At SOUTHBROOK ACCOUNTING we believe that it's important to recognize the revenue and complimentary expenses in each month, so that your Profit & Loss Statements are accurate and you can make management decisions!!