Southbrook Consulting provide entrepreneurs with customized solutions for developing, growing, and managing businesses. We offer a range of standalone products to help business owners solve specific problems for their organizations.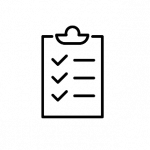 Business Review
Request a detailed review of your business's systems, culture, and financials. Find out where you stand today and get actionable insights to improve your business tomorrow.
Our Business Review takes a rigorous look at everything from hiring and operational procedures to cash flow and gross profit margins. The review starts with in-depth questionnaire, which is also used as the starting point for our one-of-a-kind strategic planning process.
You can purchase our Business Review as a standalone product and implement our recommendations for yourself — or you can work through it with our experienced team.

HR Toolkit
Our HR Toolkit includes a wide range of tools to assist you with recruiting and hiring, creating internal policies, and developing your team culture.
If you are having trouble finding the right people or struggling to develop a healthy team culture, our tools can help you identify problem areas and find an effective solution. Start building better HR processes that will allow your business to grow more efficiently in the future.

Sales ToolKit
There has never been a tougher time to work in sales. You feel pulled in all directions and pressured in returning everyone's calls within 24 hours. You are becoming frustrated with the time spent on estimating, visiting clients that are not a good fit and disappointed in your low closing ratio.
Mastering your time requires a laser focus plan. This kit contains the resources to help you crush your goals and give you more free time.
This kit includes: Proven Sales Process using DISC, trust & questioning, Sales Forecasting & Tracking Templates, Sales Team Development PPT.
Get in touch to learn more about strategic planning for your business.