Succession Planning Services
If you are thinking about retiring or selling your business, it is important to prepare and plan appropriately for this major transition.
At Southbrook, we work with business owners to help them figure out how to properly sell or transition their businesses into new leadership. Our team has firsthand experience with the challenges of navigating a succession and we can help you structure and streamline your business for a smooth transition process.
Prepare for the next generation of leadership with a long-term exit strategy.
Selecting & Training Your Successor
When selecting a successor for your business, you have several options available to you. If you have family in the business, you may choose to pass ownership onto the next generation — or you may decide to sell your business to one or more of your current employees, or to an outside interested party.
Regardless of the successor, it is important to groom them for leadership and management of the business. You want your business to continue operating normally after your departure and have the potential for continued growth.
It is very important to give your potential successor the opportunity to make decisions and mistakes, fail and take risks, and learn how to run the business while you're still there to guide them. This learning process will help you determine if you've chosen the right successor and set them up for success after you transition out of a leadership position.
At Southbrook, we can coach you through the process of selecting and training a successor to take over ownership of your business. We understand the common mistakes that business owners encounter when choosing a successor and we can help you navigate them.
Creating a Five-Year Exit Strategy
Did you know that proper succession planning should start approximately five years before you plan on leaving the company? It is important to develop a long-term exit strategy well in advance of trying to sell your business or choosing a successor.
This proactive approach will help you effectively build value for your business, streamline the transition for the new owner, and ensure you are appropriately compensated after the sale. At the end of the day, this is your legacy and your livelihood — you want to plan appropriately for your succession.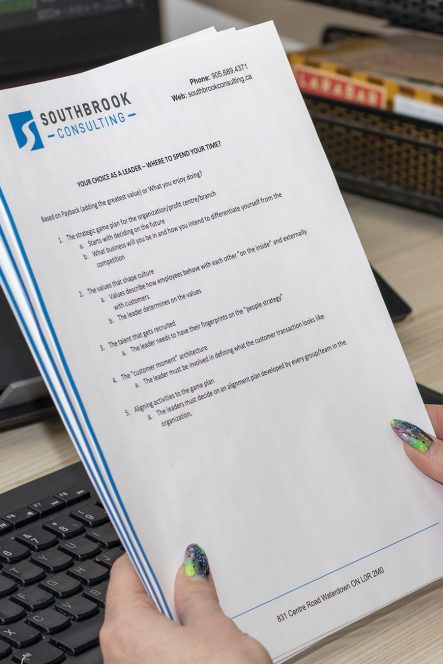 Get in touch to learn more about preparing a succession plan for your business.